Ski school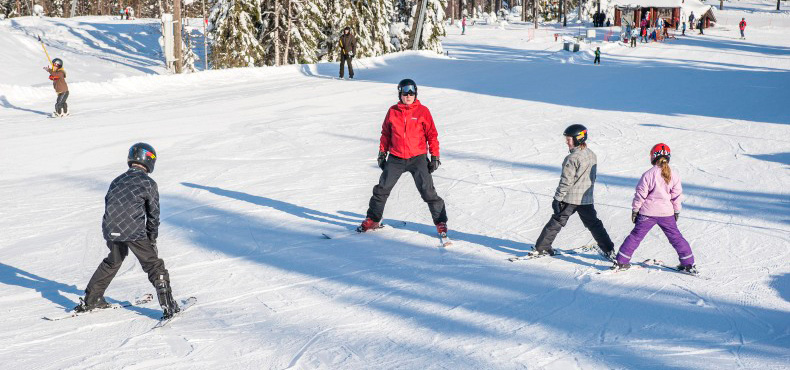 Enjoy skiing more
The skilful and inspirational Sappee ski instructors reveal the secrets of skiing to beginners and more experienced skiers alike. The high quality instruction at Sappee ski school has already been recognised – the school was selected as Ski School of the Year a few years ago. The ski school programme includes lessons for groups and private lessons for individuals who would like the exclusive attention of the instructor. The curriculum includes: skiing, slalom, snowboarding, carving and telemark.
Skiing will be safer and more enjoyable when you have the slope skills. Ski instructors will also help you to learn about new ski equipment and techniques; everyone should update their skills at least once every winter. Take ski lessons on our '10-Tuesdays' offer days and you can rent equipment and practice on the slopes at very low prices.
Werneri's brisk ski school
The energetic Werneri ski school provides instruction especially for children. Young children learn the rules of the slopes and safe skiing together with Werneri in a fun manner. Werneri's goal is to give children a diverse set of skills on snow.
The friendly ski instructors at Sappee organise several Werneri courses during the season. Register your child via e-mail or by calling (+358) 400 996 600. While your child is at the Werneri ski school, you can take lessons from a ski instructor as well.
Ski school schedules
Classes always begin on the hour.
Class duration is 50 min. (1-2 persons).
The duration of a group lesson is 50 min. or 100 min. (minimum  of 3 persons).
Ask about joining group lessons.
Note!
You should allow sufficient time (10-15 min) for renting equipment so that you can register at the ski school office prior to the lesson starting.
At other times you can get an instructor only by prior appointment. The reservations should be made 3-4 days in advance.
INQUIRIES AND RESERVATIONS
Tel: (+358) 400 996 600 (9-17)
E-mail: hiihtokoulu@sappee.fi