For Beginners

easy courses
Disc Golf is a great activity for the whole family as well as true aficionados.
Finding the right throwing angles and grips (backhand or forehand) and combining the right disc with the right course keeps the game interesting and fun.
Nothing beats the feeling of hearing the basket chains clink after your first successful throw!
With courses meandering through the forest, Sappee Disc Golf Park meets the competitive requirements of the sport. The objective of disc golf is similar to regular golf. The disc golf basket is the same as a hole in regular golf.  The winner of the game completes the course with the least amount of throws. Touring all the tracks takes a couple of hours, easily more.
The sport is perfect for people of all ages and the track offers a suitable challenge even for more experienced golfers.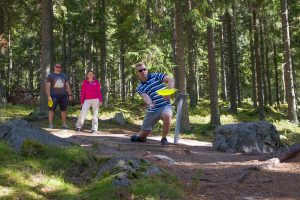 Track fee: 5 € / person/ 1 day
Season pass: 10 € / person. Season pass is valid for 1 year after purchase.
Keep the order confirmation with you during the game.
Buy in our web shop (Finnish)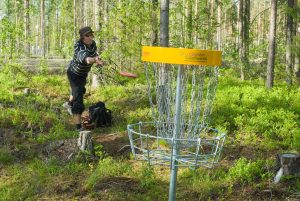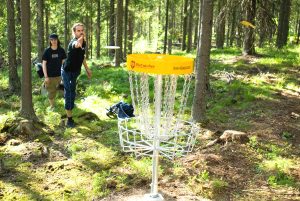 Disc 5 €/ day
Disc set
(driver, mid range and putter) 10€/ day.
Get your discs at Sappee rentals during opening hours
Phone 044 731 5201 or e-mail: vuokraamo@sappee.fi
Print map & score card