Adventure Park General Info
Please read through the following information carefully to allow for a smooth & joyful visit at Sappee Adventure Park.
The adventure park offers 12 varying courses with 38 zip slides and 96 tasks. There is no specific age limit to enjoy the courses, but it is recommended that you are at least 110cm tall (130cm when doing the more demanding courses). The extreme course has a minimum weight limit of 40 kg, and all the courses have a maximum weight limit of 120 kg.
Children under the age of 10 are required to be accompanied by an adult on the course.
Children between the ages of 10 and 13 may enjoy the courses on their own, but a supervising adult must be close enough to keep an eye on the children (ground level is ok)
Ages 14 and up may go through the courses on their own without adult supervision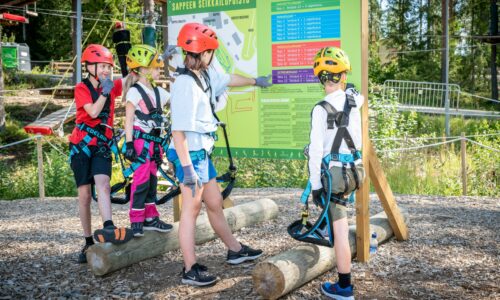 Courses
Training courses (green, minimum height 110 cm)
Training courses are the first courses of the Adventure Park, located right next to restaurant Huippu and equipment rentals. The training courses feature 12 different tasks and 4 zip slides. Once you have completed the training courses you are ready to make your way deeper into the park. Minimum height recommendation 110cm, maximum weight limit 120kg.
Family courses (blue, minimum height 110 cm)
Designed specifically for families with children, these courses offer just the right combination of challenges and relaxation. There are 5 family courses with 37 tasks and 13 zip slides. The family courses are also centrally located near restaurant Huippu. Minimum height recommendation 110cm, maximum weight limit 120kg.
Advanced courses (red, minimum height 130 cm)
Sappee Adventure Park's 4 different advanced courses are a step up from the training and family courses when it comes to difficulty and excitement. These courses offer 37 tasks and 18 zip slides that will guarantee to keep you busy! Minimum height recommendation 130cm, maximum weight limit 120kg.
Extreme courses (purple, minimum height 130 cm, weight min 40 kg – max 120 kg)
Located at the start of the advanced courses are the park's adrenaline junkie favourites; Base Jump and two long zip lines. Base Jump offers you the completely safe but exhilarating experience of jumping from the height of 11 metres. And the two zip lines are also something else – they are over 100 metres long! You are free to zip back and forth as many times as you can before your ticket expires. Minimum height recommendation 130cm, minimum weight limit 40kg, maximum weight limit 120kg.
To ride the extreme courses, you need a separate 1-hour ticket.
If you also want to experience the other courses, it is recommended that you purchase a combination ticket (Adventure ticket + Extreme Courses); this allows you to enjoy the entire park for up to 3 hours.
Track map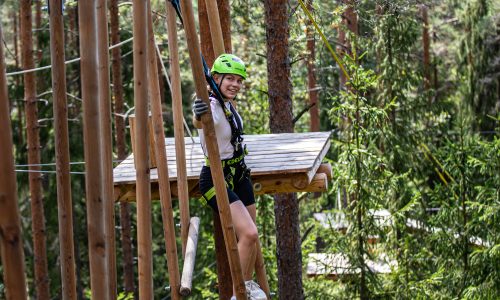 Instructions
Before going on the courses alone, everyone must complete a staff-guided orientation on the training course. After this you are free to roam about the park at your own pace. You are always welcome to watch from the ground level as brave adventurers embark on the courses – walking around in the park area is free of charge.
There are no specific age limits to the courses, but they all have minimum heigh limits and the extreme courses also have a minimum weight limit of 40kg. The maximum weight limit for all courses is 120kg.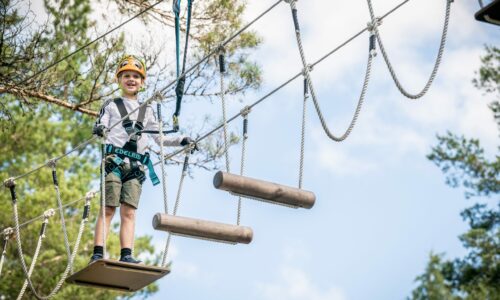 Prices and offers
An Adventure Ticket is always valid for 3 hours.
An Extreme Courses Ticket (Zip Line and Base Jump) is valid for one hour.
The combined ticket (Adventure + Extreme) is valid for 3 hours.
An Adventure Ticket allows you to access the training, family and advanced courses with their tasks and zip slides. The Extreme Courses Ticket is needed to access the long Zip Lines and Base Jump.
Buy tickets online
Things to note upon arrival
Dress according to the weather, we recommend sturdy, low-soled shoes for footwear.
Gloves are mandatory equipment. There are suitable gloves for sale at the adventure park's ticket desk 4,90 €/ pair (sizes 5-12).
The gloves should be a good fit so that they provide a good grip while protecting your hands.
You'll receive the mandatory safety equipment such as a helmet and a full-body harness at the park. We have plenty of these safety equipment sets (150 pcs).
There are 2 restaurants in the area.
Toilets can be found in the restaurants.
Weather conditions
Safety is our number one priority.
The park is open even if it rains, but strong winds or thunderstorms may cause the park to close down for a while.
Any changes to normal opening hours will be posted on our web site.
As the adventure takes place in nature, sudden restrictions to activities may appear that require us to close down the park either completely or partially. Purchased tickets cannot be exchanged or returned.
The grounds for closing the tracks are:
– Strong wind (10,8–13,8 m/s)
– Thunderstorm
Limitations related to the adventurer's health
If you have any of the following:
epilepsy
cardiovascular disease
balance disorder
respiratory disease
back pain
you have just had surgery
If you have one of the diseases mentioned above, the adventure is basically prohibited, unless you have received separate permission from your doctor.
If you are able and have received permission from your doctor to go on an adventure, be sure to talk to the staff about it before you go on the tracks. We do not recommend the adventure for pregnant women and the adventure is prohibited for those over the fourth month.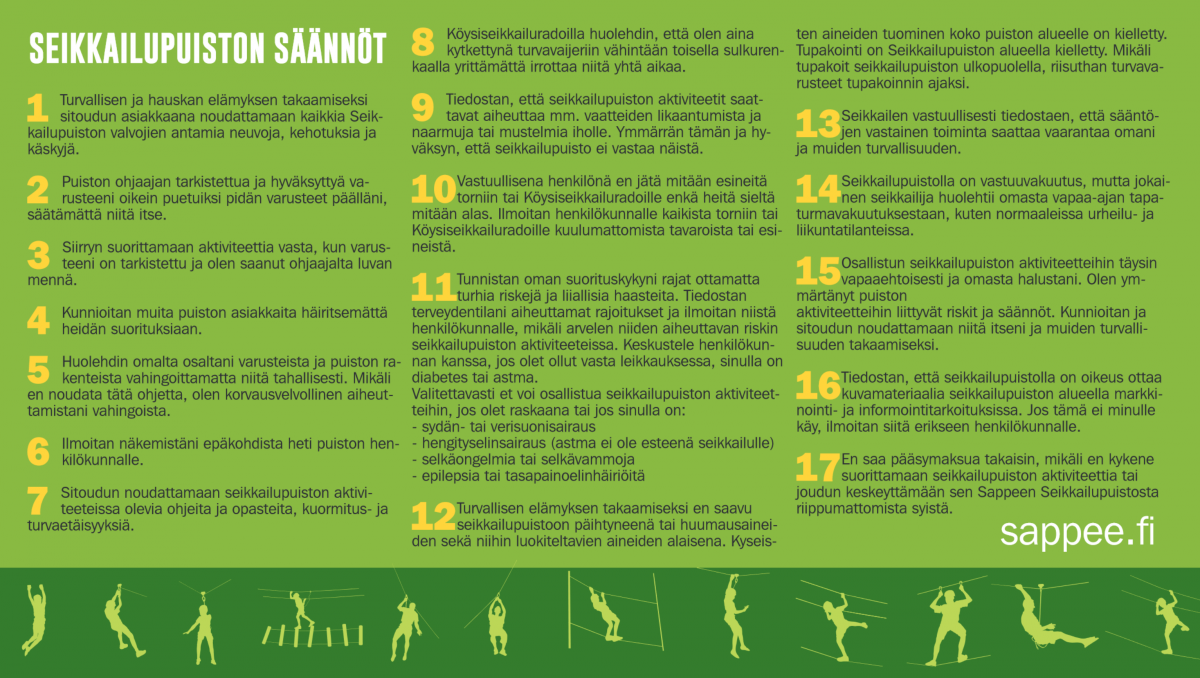 Safety
The park's adventure tracks are built to standards SFS-EN 15567-1 and -2 according to requirements. TUV and ERCA have completed an independent Type-A inspection. The park is type approved and has received the CE mark. All our staff comply with the ERCA (European Ropes Course Association) guidelines of the official adventure park guide and lifeguard training in our operations. We carry out standard inspections every year, including tree inspections.
On the adventure tracks, customers wear full-body harnesses, helmets, gloves and alternately locking carabiners. A customer who follows the rules of the park is always connected to the security line, which guarantees a safe and exhilarating adventure.
Suomen seikkailupuistoyhdistys ry:n yleiset toimitusehdot
(in Finnish)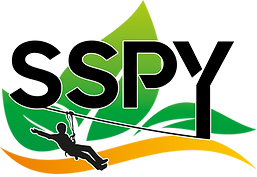 For group bookings and enquiries, please contact Sappee Sales Service (weekdays 9-16) at 0207559970 or sappee@sappee.fi.