Bike Park
| | |
| --- | --- |
| National team track DH | open |
| DH (musta) | open |
| Rabbit Run | open |
| Daisy | open |
| Supersonic | open |
| Double Trouble | open |
| Rock Garden | open |
| Eastway | open |
| Icebreaker | open |
| Jumper | open |
| | |
| --- | --- |
| Pump Track | open |
| Drifter | open |
| Bumpy Ride | open |
| North Shore 1                | open |
| E-Laippa | open |
| Safari | open |
| S-Linja | open |
| Oil & Gasoline | open |
| Fresh Cut | open |
| Lemminkäinen | open |
Slope tracks (FR & DH, Enduro)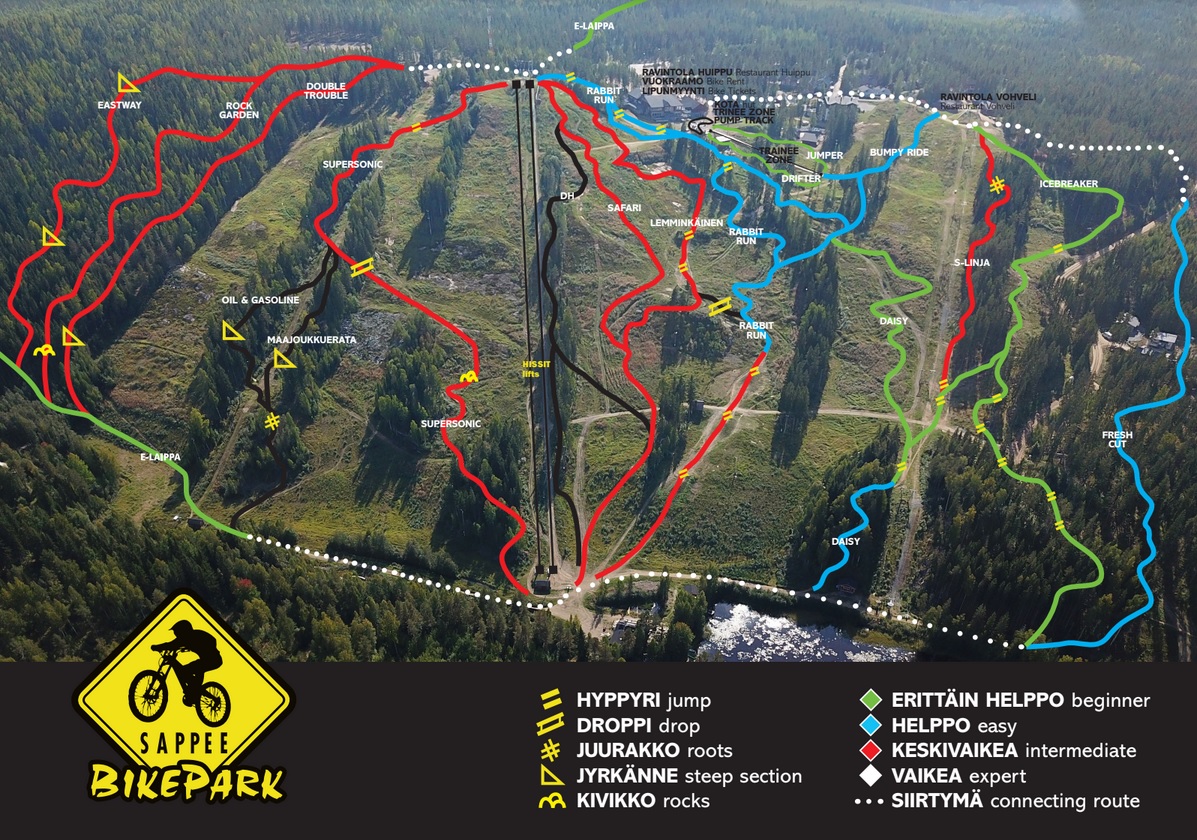 Printable map here
(FR) Machine-made into the main slopes of Sappee, these downhill biking trails are suitable for riders of various skill levels. The main line is flowy with sweeping turns, but forks into several more challenging sections with series of turns, jumps, mounds and a wall ride that all require somewhat more advanced riding techniques. 
(DH) More challenging trails that require advanced techniques. Each trail has its own unique features: stones, tree roots, drops and big rocks. These trails offer high speeds and can challenge the skills and techniques of even the most experienced riders.
(Enduro) Natural forest trails. Stones and tree roots have been left where they are, and only the most difficult parts have been modified to facilitate riding. There are no big jumps on these trails. As the name suggests, the trails are best suited for enduro bikes; this is especially true with the E-Laippa trail where you have to do a bit of pedaling as well. This might be quite strenuous on a DH bike.
North Shore riding areas
Demanding wooden balance trails located amongst a wooded slope. These trails are suitable for experienced riders only.
Trainee Zone
Trainee Zone for beginners and children has easy tracks and conveyor belt. In these tracks is easy to start downhill cycling. There are three tracks, Drifter, Jumper and Bumpy Ride.
Jumper includes humps and little berms for beginners. The end of Drifter has a few jumps.
Bumpy Ride
Using a Traizee Zone- ticket, but there has also trail to daisy and anchor elevator. To use an anchor, you'll need a ticket to all traisl. On a Bumby ride, there is easy berms and a little boulder field with man-made rootarea. In daisy there are some forest and it get's more challenging after a conveyor belt.
Trainee Zone has own ticket and it's cheaper than normal day- or hour ticket. You can change Trainee Zone- ticket to a normal ticket by paying a difference.
Pumptrack is a A pump track is a circuit of rollers, banked turns and features designed to be ridden completely by riders "pumping"—generating momentum by up and down body movements, instead of pedaling or pushing. Track is suitable for all no matter how experienced you are.